In an effort to help out our EMS friends and colleagues, we will be having a FREE medical education and professional development event at The Kentucky Castle on May 9th from 6-9pm.
Here is the agenda for the evening:
Social Media as a Career Accelerant-Rob Rogers, M.D.
Every Provider is an Educator-David Fifer, NRP
How to Criticize-Floyd Miracle, NRP
Commanding The Room- Getting Docs to Listen to Your Bedside Report-Walt Lubbers, M.D.
Assuming the wifi is ok, we will be livestreaming on Facebook live and sending out LOTS of juicy, med ed tweets!!
Related posts
Follow us on Twitter
Less than a month away from Medutopia India at the @acem2019delhi conference!! 🙌 -How to be a better educator and… t.co/SARKfGXJlo
Retweeted by Medutopia

Calling all medical educators! ✏💻🌎 t.co/hHtkjurpKq

HOW MUCH IS YOUR TIME⏱ WORTH💸? Consider outsourcing the things that you don't ❤ to do. Check out more from the l… t.co/w7Sxq4NMCo
Medutopia Workshop Poster for #DevEM2020 March 7-8, 2020, Cartagena, Colombia @Med_Utopia
Retweeted by Medutopia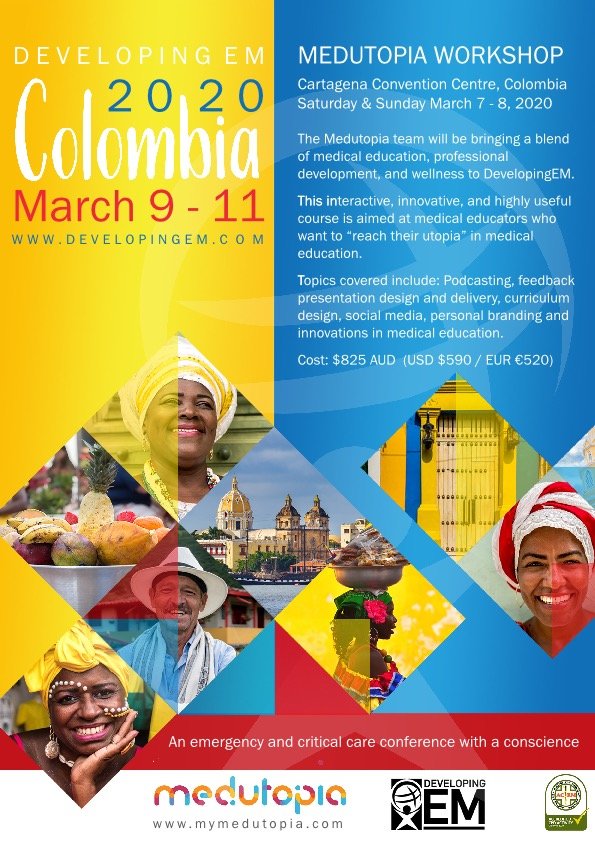 Message from an awesome EM Educator @DanyaKhoujah about @Med_Utopia #Facultydevelopment program during… t.co/0W95wGF9ZQ
Retweeted by Medutopia
Follow us on Instagram
Instagram has returned invalid data.